Summary of Key Achievements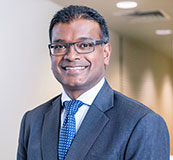 Dr. Dhan Thiruchelvam
Consultant Surgeon Upper GI and HPB Unit St Vincent's Melbourne.
Senior Lecturer. University of Melbourne. Department of Surgery St Vincent's Hospital
Surgical Mentor St Vincent's Hospital 2008, 2010-11
SET 1 Supervisor St Vincent's General Surgery Training 2011-
Faculty Member of the Academy of Surgical Educators. RACS
Inaugural Peter J Dohrmann Medallist. Epworth Hospital 2013
Surgical Clinical Fellow in Upper GI and HPB, Royal Infirmary Edinburgh 2009
Hepatobiliary and Upper GI Fellow, St Vincent's Hospital Melbourne 2007
Upper GI and HPB Fellow. Box Hill Hospital. Melbourne. 2006
Honorary Lecturer in Surgery, Monash University, Box Hill Hospital. 2006
E Trenchard Miller Memorial Scholarship (Sydney University Medical School)
James Aitkin Scholarship (Sydney University Medical School)
Reviewer: ANZ Journal of Surgery
Reviewer: Obesity Surgery
Reviewer: Medical Journal Australia
Education
Educational Institutions
Sydney University Medical School
Sydney Grammar School
Maitland High School
Tertiary Education
Sydney University Medical School
E Trenchard Miller Memorial Scholarship
James Aitken Scholarship
Teaching/Training
Faculty Member of the Academy of Surgical Educators. RACS.
CLEAR( Critical Literature Evaluation and Research) Course Instructor 2010-. RACS.
Co Organiser: Inaugural St Vincent's Surgical Forum 2012. Aikenhead Conference Centre. St Vincent's Hospital.
Shortlisted for the "Best Supervisor/Teacher-Consultant" by St Vincent's 2011 Interns.
Further Degree
Diploma in Clinical Education. University of Edinburgh 2011.
Papers , Publications and Presentations
A summary of the key presentations
A Novel Endoscopic Technique in Revisional Surgery for Complications of High Gastric Reduction Rajasagaram N, Tokhi A, Thiruchelvam D Banting S.Hepatobiliary and Upper Gastrointestinal Surgery Unit, St Vincent's Hospital, Melbourne Poster Presentation ANZGOSA/OSSANZ 2015.
Magnetic Surgical Instruments for Robotic Abdominal Surgery. Leong F, Garbin N, Di Natali C, Mohammadi A, Thiruchelvam D, Oetomo D, Valdastri P. IEEE Rev Biomed Eng. 2016 Jan 26. [Epub ahead of print]
S Flatman, J Darby, P McKelvie, P Stanley, D Thiruchelvam. A Case of Massive Gastrointestinal Haemorrhage. ANZ J Surg March 2010.
Torsion of the gallbladder: a systematic review Daniel J. Reilly, George Kalogeropoulos, , Dhan Thiruchelvam HPB Volume 14, Issue 10, pages 669–672, October 2012
A Framework for Emergency Surgery in Victorian Public Health Services. Department of Health publication. Co author. 2012.
A.Newey, D.Thiruchelvam, R. Davies. Isolated occlusion due to Cystic Adventitial Disease of the Popliteal artery- Ultrasound diagnosis. Journal Of ASUM ( Australasian Society for Ultrasound in Medicine) May 7 2004.
Poster Presentation RACS ACS 2012 KL Malaysia. Cavernous Haemangioma of the Adrenal. J.McKenzie, D Thiruchelvam
Surgery for Gastrointestinal Neuroendocrine Tumours. Peter Mac Colorectal Meeting Sofitel. March 24th 2011.
ASC 2010 Perth. Cholecystostomy: When, Where and How? Presentation in HPB section

Poster presentation

: S Flatman, J Darby, P McKelvie, P Stanley, D Thiruchelvam. A Case of Massive Gastrointestinal Haemorrhage: An Important Consideration in Travellers, Royal Australasian College of Surgeons, Annual Scientific Congress, 5-9th May 2009, Brisbane
Atypical Reflux and the indications for surgery. Epworth Barrett's and Reflux Symposium. Park Hyatt . 23/3/2012.
Human Gallbladder Cells used in the treatment of Diabetes. Peter Ryan Prize Meeting St Vincent's Melbourne. 12/11/2011.
Free Paper Presentation. ASC 2010 Perth. Comparing CT and EUS in Oesophageal cancer. S Flatman, D Thiruchelvam, R Chen and R Cade. May 2010 Perth
Endoscopic Management of post cholecystectomy biliary fistula. M. Hii, R Cade, D Thiruchelvam, S Banting. 20/11/10. Peter Ryan Surgical Prize Meeting. Education Centre St Vincent's Hospital
Human Gallbladder-derived islet progenitors for cell replacement therapy in diabetes. Dr Anand Hardikar ( Bernie O'Brien Institute) , D Thiruchelvam ( St V). Peter Ryan Surgical Prize Meeting. Education Centre St Vincent's Hospital. 20/11/10
O'Brien, R., Thiruchelvam, D. Fox, A. Van Dijk, J. (2008) Using live video links to operating theatres as a teaching tool for undergraduate medical students. Peer reviewed short presentation. 13 National Prevocational Medical Education Forum, November 9 – 12, 2008, Hobart, Australia
Projects
Live Surgery Education Project. St Vincent's Health. The use of live broadcast surgery with Surgeon facilitation as an educational tool for Medical Students. 2008
Committees
ESWG:

Emergency Surgery Working Group of DHS Victoria. General Surgery Representative from RACS. 2009-2010
Regional Subcomittee for Board in General Surgery 2011-
Membership of Surgical Organisations